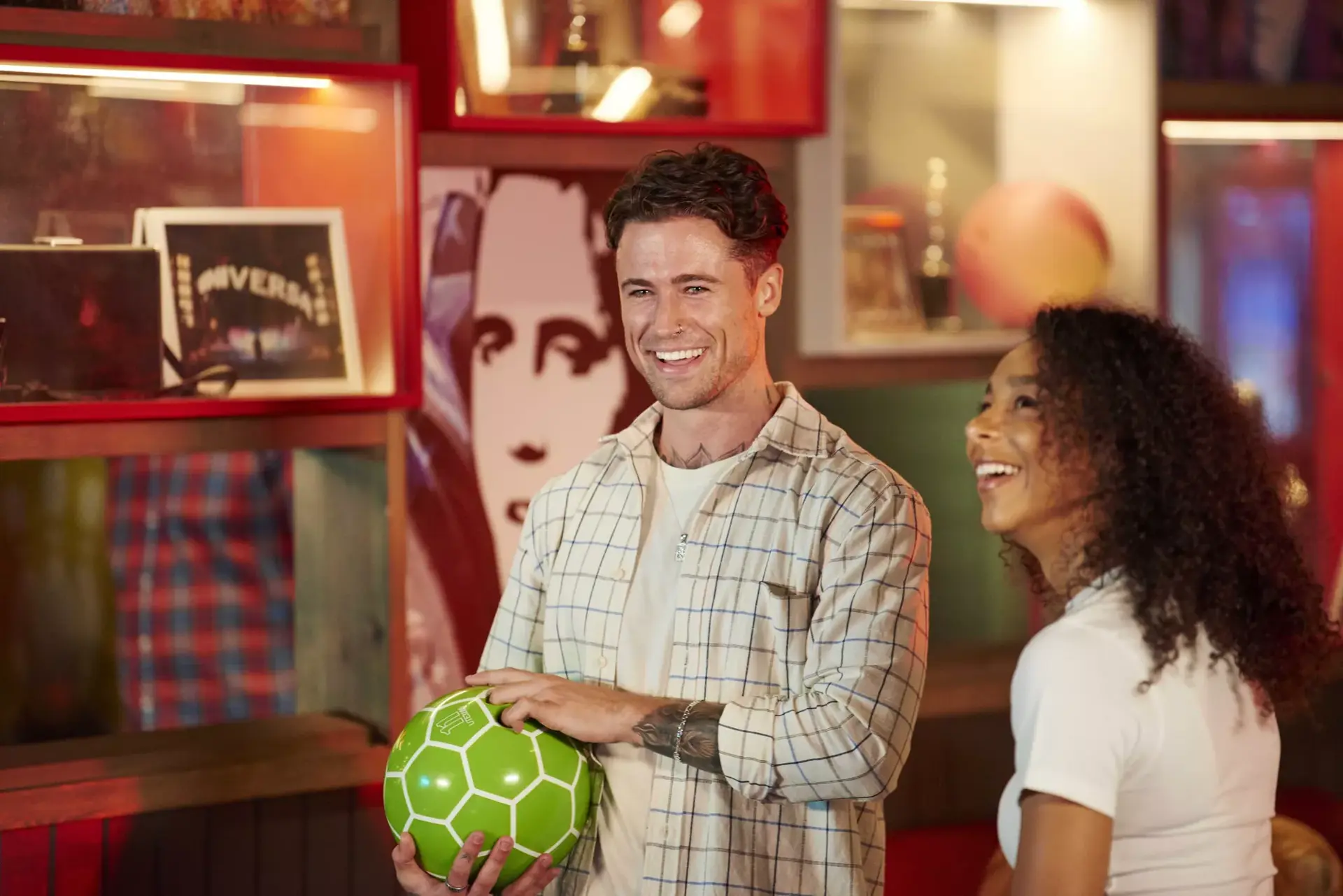 Bowling Date Night
A NIGHT OF BOWLING MIGHT BE RIGHT UP YOUR ALLEY…
When you think about a date night, what is the first thing that comes to mind? For most of us it probably involves a meal in a nice restaurant - providing the perfect space to talk and get to know one another, but what about those awkward silences? Dinner dates don't always marry up to our expectations in the desired way.
So what ticks the 'ultimate date night' box? Bowling is one of the best activities to do together on a date. There are hundreds of reasons why bowling is a fantastic date night option. Here are some of the main reasons that might strike you as surprising!:
LET LOVE BLOSSOM
Sometimes in life, we take ourselves too seriously and it can be hard to relearn how to have fun. Unless you're a professional bowler, bowling is a great way to learn not to take yourself, or your partner, too seriously. Whether you're in a new relationship or have been married for 20 years, bowling is a great opportunity for you both to learn that it is okay to laugh at one another.
Bowling is all about making mistakes – whether you throw the ball straight into the gutter, or you slip around in those slightly-too-big bowling shoes, it allows for time to just have fun and be silly. Laughter is a great way to bond on a date and enjoy bowling wins and fails whilst sharing a few jokes.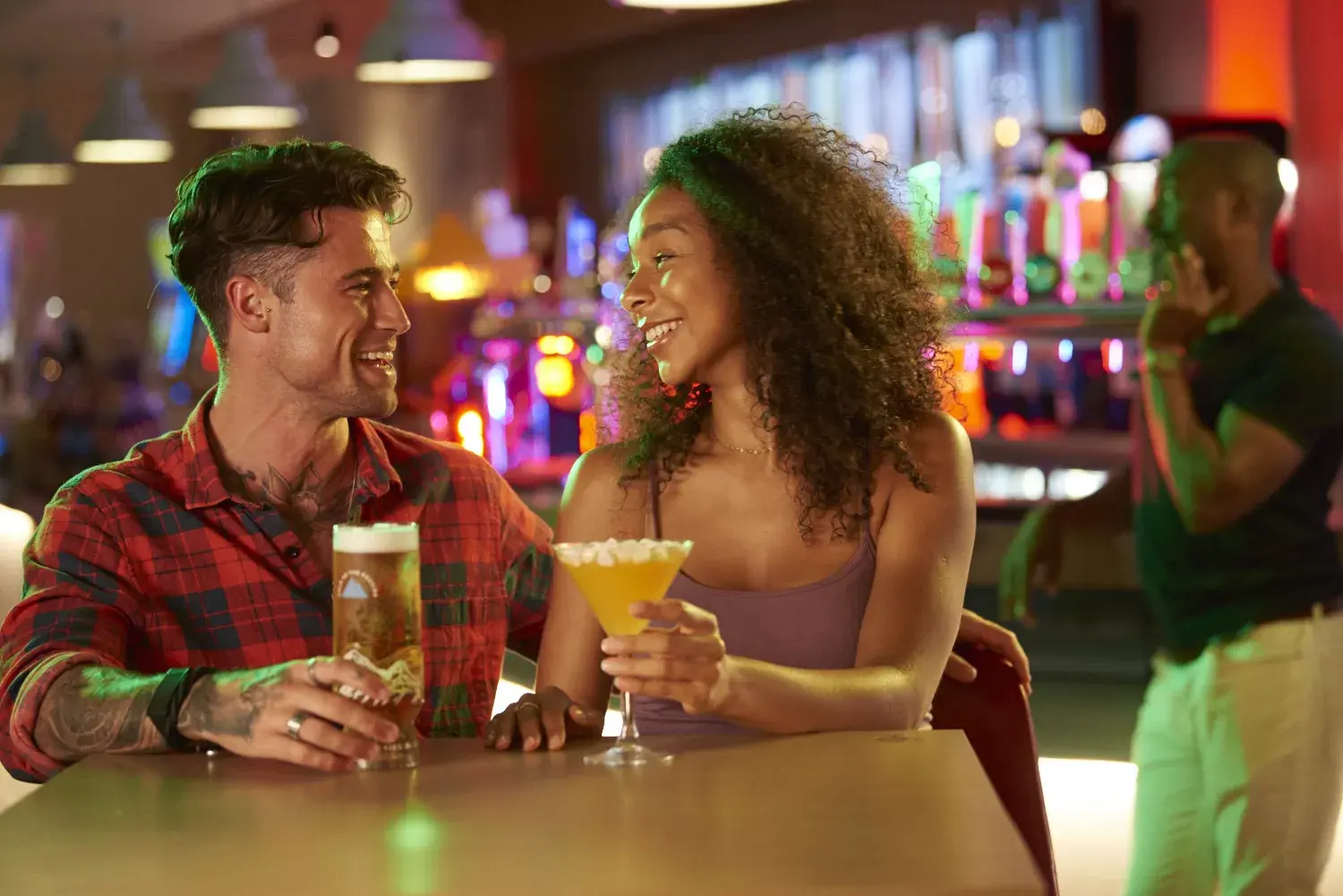 LEARN ABOUT ONE ANOTHER
Whether you're a new couple or have been together for a while, you can always learn something new about one another when bowling. Being competitive is both a healthy and a great way to let off some steam – not to mention the fact it's a great excuse to embrace some flirtatious conversation or banter. So, if you're planning that very first Tinder or Hinge date, bowling is the best way to break the ice.
MAKE IT MEMORABLE
Although it is sometimes fun to get dressed up to head out to a fancy restaurant, it can also be a lot of unnecessary effort. Sometimes we just want to chuck on some casual, comfy clothes and head out to do something just for fun, especially after a long week in the office! Bowling allows us to create fun, exciting and wonderful memories, while not spending too much money or putting in too much effort. Against other experiences - bowling is a great way to get out and about, whilst also enjoying a few arcade games, some cocktails and sharers, having fun and not breaking the bank too much.
SHOW YOUR ADVENTUROUS SIDE
So much of us spend too often repeating the same routine, which usually means sitting at our desks working and then going home. For a lot of couples, their time together is spent sitting in front of the TV having that all-important quality time. Although this is nice and there is certainly a time and a place for this especially after a long day or week, sometimes we need to get out of our routine comfort zones and change things up.
Bowling has the perfect balance between being active, sitting down and also having an amazing time together – it incorporates so many social and physical benefits to our bodies, both mentally and physically creating those feel-good endorphins..
DATE NIGHT BOWLING TIPS
As we've seen, bowling ticks the boxes for any stage of your relationship – whether you're on a first date with someone you really fancy, or you are rekindling your love in a 30-year marriage, bowling is a great date night idea. But are there any tips for making the most of your bowling date? You bet there are! Here's  a full list of bowling tips, or three key tips below:
WEAR CASUAL CLOTHES
You're going to a bowling alley, not the Ritz or London Fashion Week – so you don't have to worry about wearing the latest trends. Chuck on some comfy jeans, a nice t-shirt and you're ready to go. Don't stress on footwear either, because you can wear your own - so long as they're flat, soled and closed toe shoes!
THE ULTIMATE ICE-BREAKER
Dates, especially first dates, can be extremely nerve-wracking. Saying the wrong thing can be a worry. So a great way to let loose is to go bowling and share some bowling mistakes together, and allow yourself to be in the moment - knowing that you can both have a laugh and be yourselves. By being a bit silly, you'll both relax and genuinely enjoy your date.
TAKE IT SLOW
The great thing about bowling is that you can take as long as you want. It is all about having a great time and being able to get to know your date as well as cover up any silences with playing the game. We recommend you do the following: grab a drink before your game, enjoy a few bowling games together, hop on a few arcade games and grab some food! The main thing is taking the time to just enjoy yourselves, rather than rushing through, and allowing time to get to know one another (even if you've been together for years). Life already moves too quickly, so take the time to just enjoy the moment and have fun.
THE PERFECT DATE NIGHT BOWLING PLAN
Going out bowling is so much more than the act of bowling itself – you don't want to cut the date short just because you've finished the game, nor do you have to start the date with the game itself. Quite often, the bowling venue has a number of different activities to do: arcades, meals and bars are usually a staple attraction at any bowling alley. Here's a few of our highly recommended top tips for the perfect date night bowling plan for you and your date:
GRAB A DRINK
Grabbing a drink at the bar will help you both to relax a little – and most bowling alleys have a great selection of cocktails and drinks to get you started.
BREAK THE ICE
Now that you've had some time to unwind, you can start your game. Don't forget to give one another funny names on your score cards – this will make for a great talking point at a later date.
GET THE CONVERSATIONS STARTED
Hollywood bowling alleys tend to always have an arcade – and who doesn't love some of the old classics? Grab machines, ten pence machines and quick win ticket machines or even new style games, these are a great way to continue your night and not cut it too short. It is also another great opportunity to embrace both of your competitive sides, as well as to get the all important banter rolling!
AVOID EMPTY STOMACHS!
Once you've done your bowling and tried to win each other toys on the arcade grab machines, you'll probably need a bite to eat (or even another drink). Thankfully, Hollywood bowling alleys have somewhere for you to get some food. You can opt for some tasty sharers so you both can dig in and share your faves, or you can choose from a selection of burgers, hotdogs and other options.
LET THE NIGHT SEE WHERE IT TAKES YOU
From here, you can choose where the night takes you. Grab another drink, head back to the arcade, or carry on the night in another way. Whatever you choose, the night will come to a perfectly natural end for you to either carry on with something else, head home, or go your separate ways.
Bowling is a night out that fits all – not just couples. Why not take the kids, go with friends or even have a double date with another couple. To save yourself waiting time and save a little bit of money, why not book online now.