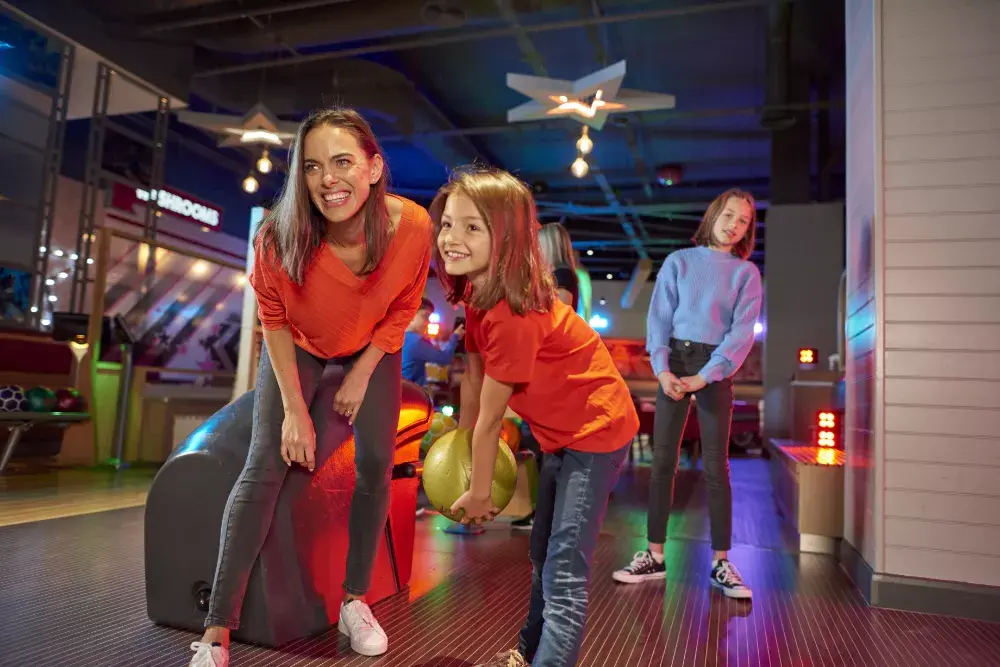 The best rainy day activities
WHO SAYS THE RAIN CAN STOP YOU FROM HAVING FUN?
Picture this; You have just woken up. It's your first day of a week off, the kids aren't at school, it's raining and you are struggling with ideas for what to do with the kids to keep them happy. Don't let the rain be the reason that you can't go out and enjoy a fun activity with the kids.
When you find yourself stuck inside because the weather outside has put a bit of a dampener on the day, it's not just the kids that can feel restless. Luckily, there is one activity that is jam-packed with fun regardless of how bad the rain is, and that is bowling.
WHY CHOOSE BOWLING ON A RAINY DAY?
Bowling is the perfect activity for when the weather isn't quite playing ball because it can be enjoyed no matter the circumstances. With something for everyone - whether it be a game of bowling, arcade games, pool or just to enjoy some food and drink, it could be chucking it down outside and you'd still be having fun! It's the perfect boredom buster for people of all ages, and a great alternative to whatever plans you had.
So, if you are stuck inside due to the bad weather forecast, here are a few reasons why bowling should be your go-to choice for a rainy day:
ALL THE FUN UNDER ONE ROOF
Whether you are playing a game on the lanes, grabbing a drink at the bar, having a bite to eat at the diner, or checking out the amusements in the arcade, you are indoors the entire time. You have got everything you need under one roof, so you can enjoy yourself, relax and have a memorable fun packed day with the family and friends.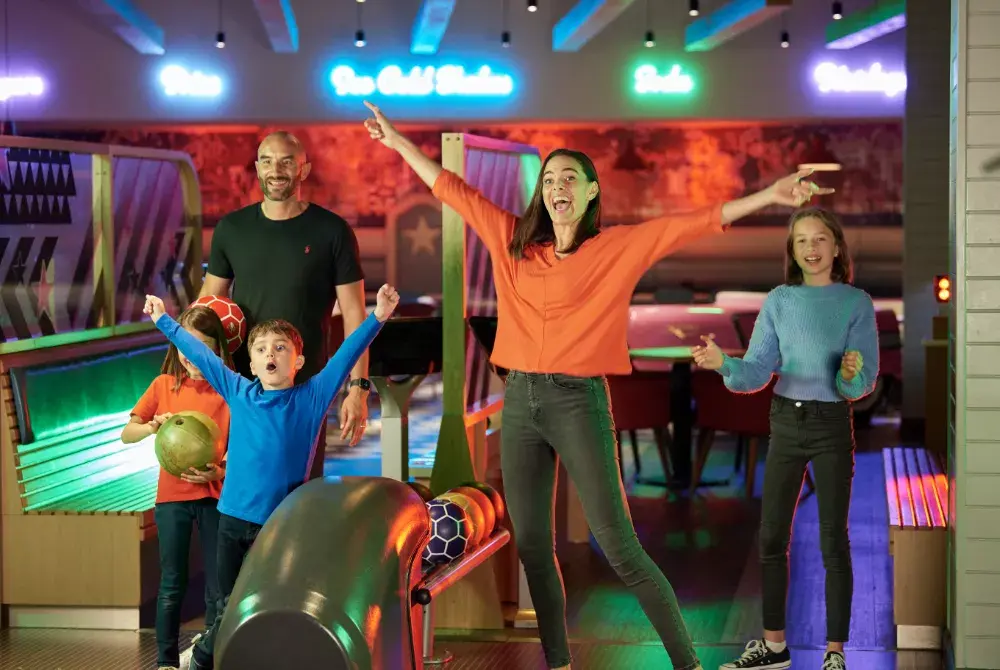 FUN FOR ALL THE FAMILY
Bowling is a fun activity for everyone, no matter what age or ability. So if you are suddenly struggling to find that one activity that will keep the whole family entertained, a last minute trip to the bowling alley is a sure-fire way to keep everyone happy. Suitable for all ages and with plenty of things to do. From playing the main game to trying to win prizes on the 10p machines and more, whether you are there with your friends, your partner, your family - or even just yourself, you are bound to have a great time.
BOWLING TIPS FOR A RAINY DAY
To convert your unplanned rainy day into an amazing and fun bowling trip for you and the family, here are just a couple of recommended pointers to help you:
GET THERE EARLY
If you have woken up on a rainy day and decided to go bowling, you can assume lots of other people have too. So to make sure you secure yourself a spot on the lanes, we recommend making a booking in the morning, or simply getting there early to ensure you get a game. That is, of course, unless you are extra prepared, checked the weather the day before, and already made the reservation.
MEET UP WITH FRIENDS
There is nothing like using a rainy day as an excuse to get the gang together. Your friends might not have had the same great idea as you, and might be sitting at home twiddling their thumbs wondering what to do with their day. So why not give them a message and see if they're up for meeting at the bowling alley? Not only will you be able to escape the rain and make the most of your day, but you will also get to help someone else make the most of theirs too, and spend the day catching up with some good pals.
TURN IT INTO A PLAY DATE
That brings us to our next tip – if you have kids then why don't you let them get together with their friends instead? You could meet up with some other parents at the bowling alley and have a spontaneous play date, which involves hours of fun, food and drink taken care of, and the kids kept happy. What more could you want?
BOWLING PLAN FOR A RAINY DAY
Now that you know you are going bowling, it is time to come up with a plan to turn this rainy day around and make it into the best one yet. If you follow these simple steps, you will have such a good time that you will be looking forward to the next rainy day so you can do it all over again.
BEGIN AT THE BAR
Start right by getting in and drying off with a drink at the bar. Hang up your coat and umbrella and forget all about that rain, wait for the rest of the party to arrive if you're meeting anyone else, then get the game started!
GAME TIME
Once you have dried off and everyone is settled, you can head to the lanes for your game. The fun will kick in straight away and before you know it the competition will be in full swing. The competition doesn't stop there as you will have plenty of opportunities to get one back on your rival when you go head to head on some of our arcade games. With games like the classic Mario Cart, Space Invaders, Nerf and other nostalgia throwbacks, you'll have a fun packed day out.
AMAZEMENT IN THE AMUSEMENTS
Whether you are into quick-win games like our Scooby-Doo 'spin the wheel', a bit of a challenge like the classic Pacman or simply enjoy something a little more competitive like air hockey, we have got something for everyone. With plenty of games to work your way around and loads of opportunities to win tickets and cash them in for exciting prizes, we have got you covered for the perfect gaming experience.
ROUND THE DAY OFF WITH THE PERFECT MEAL
Why not finish the day off in our Hollywood Diner relaxing and enjoying your favourite treats whether that be slushes, milkshakes, hotdogs, fries, and burgers. With the perfect snacks and sharers for everyone, you have ticked all the boxes and can end the day on a high note! Bowling is the perfect go to indoor activity that will always deliver no matter the weather especially on rainy days. So, next time you are struggling for ideas or inspiration on things to do on rainy days, we have got you covered so make sure you remember to book your spot at Hollywood Bowl quickly for everything you need for an incredible bowling experience.