Is bowling the best weekend activity?
IN REAL NEED OF INSPIRATION FOR SOMETHING DIFFERENT TO DO? GO BOWLING THIS WEEKEND…
After a long week at work, you can find yourself stuck, wondering what to do at the weekend and in real need of that fun pick me up. Doing the same old things every weekend which can get boring. Not just for you but the people around you. Maybe you and your partner aren't having enough quality time together, or the kids have gotten into the habit of spending every waking minute in their rooms? What you need is a fun, exciting, activity to bring the family together at the weekend, and we've got just the thing.
If you want to mix up your days with a weekend activity that is exciting, affordable, and fun for all the family, then what you need is a trip to the bowling alley. Promising a day full of laughter, good food, and memories to cherish forever, bowling is the ultimate experience.
WHY CHOOSE BOWLING FOR YOUR WEEKEND ACTIVITIES?
There are many great reasons why bowling makes the ultimate weekend activity. With the bowling lanes you can drum up some healthy competition, the amusements arcade for you to win some cool plushies or other exciting prizes, the bar to grab some tasty cocktails, milkshakes or soft drinks, pool tables and a diner to enjoy some delicious snack and sharers, there's something for everyone to enjoy no matter their age or interests.
Here are a couple more reasons why you should choose a day of bowling for your weekend activities…
FUN AND CASUAL
After a long week, you may not fancy getting all dolled up. Luckily, there is no specific dress code at the bowling alley, and the great thing is you can wear your own shoes however, we still advise you to wear appropriate footwear for the occasion.. So, you can keep it as casual as you want without having to worry about what you look like. Simply put on your comfiest clothes, your favourite pair of trainers, and come and have a ball with your friends or family. It is that simple.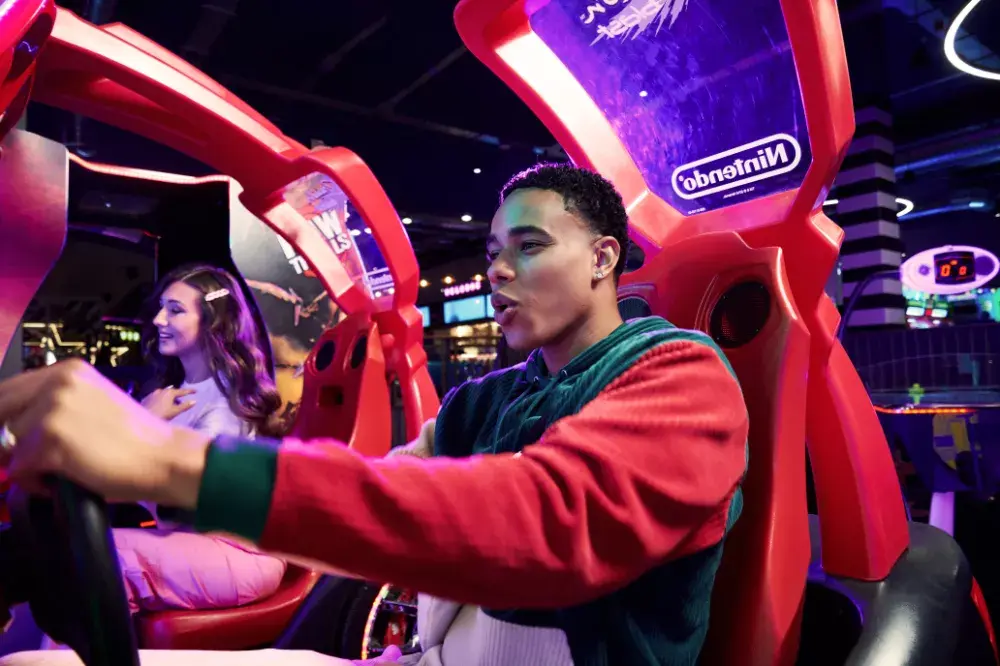 IT IS ACCESSIBLE TO ALL ABILITIES
Bowling is a great game for everyone, no matter your ability. With several accessible factors such as ball ramps, lane bumpers, and lightweight balls, you can invite everyone and no one has to feel left out. Plus, it doesn't have to be a competitive game. While there is a scoreboard if you want to compete, the main goal of bowling is to simply have fun.
TIPS FOR BOWLING WEEKEND ACTIVITIES
Now that we've given you a few reasons for why bowling is the perfect weekend activity, here are a few recommended tips on how to make your bowling weekend activities the very best they can be, whether you're getting together with family, friends, or even heading out on a solo adventure:
BOOK IN ADVANCE
No one wants the disappointment of turning up to the bowling alley and getting turned away because there are no available lanes. Weekends are the busiest time of the week, so if you want to make sure you're going to get a game or two in at the time you want then we recommend booking in advance - either online or over the phone. This can also save you some money too, as there are plenty of great deals online that you might not get in person.
DON'T FORGET YOUR CHANGE
Bowling isn't the only thing to do when you visit a Hollywood Bowl centre, as you also have an amazing arcade full of amusements and games to enjoy. From fun and exciting racing games to classic Pacman games, the more competitive games where you can play against each other and of course, the machines where you can play for some exciting prizes.. So, make sure you save some pennies to take with you, collect some tickets up and hopefully have enough to earn a prize.
PLANNING YOUR BOWLING WEEKEND ACTIVITIES
If you want your bowling weekend to be one to remember, you are going to want to make the most of everything the bowling alley has to offer. With some of our centres such as York, you can also enjoy a game of mini golf at our Puttstars centre which is located next door. So we recommend coming up with a plan for your day to enjoy everything that is there. Here are just a few things you can do to ensure that you're planning the best bowling weekend activities:
MAKE THE MOST OF THE BAR
You don't need to rush straight into a game when you get to the alley. Why not start at the bar and grab a drink or two to get you started? You are going to want to make sure you are hydrated before starting a game anyway, especially if you find that you are quite competitive. Scoring those strikes can be thirsty work!
TIME TO PLAY
After you have had your drinks and everyone has arrived, make your way over to the lanes and get the game started. Don't forget to choose funny nicknames for each other on the scoreboard! There are plenty of ways to make the game more accessible, so don't be worried about asking for things like the lane barriers to be put up for example. At the end of the day, you are here to have fun, so you want it to be as enjoyable as possible.
GRAB A BITE TO EAT AT THE DINER
After all of that playing, you are bound to be hungry. So why not treat yourself to some delicious burgers, hot dogs, fries and other tasty snacks and sharers whilst you catch up with the family and friends? You can catch up with friends and family even more over some food.
BRING THE COMPETITION TO THE ARCADE
Want to keep the fun going? Remember to check out all of the amusements in the arcade. There are plenty of amazing games to play such as Hungry Hippo and our most popular Scooby-Doo wheel, to the slightly more challenging games like Minecraft, Piano Keys and plenty more. You can guarantee that you will be finishing your fabulous weekend activities on a high note.
To make the most of your weekend, let off some steam, catch up with friends and family, give yourself and the kids a great day out - a trip to the bowling alley is just what you need. From tasty dishes at the diner to a plethora of amusements in the arcade. There is plenty to do at the bowling alley, making it one of the best weekend activities. So, what are you waiting for? Book online today.