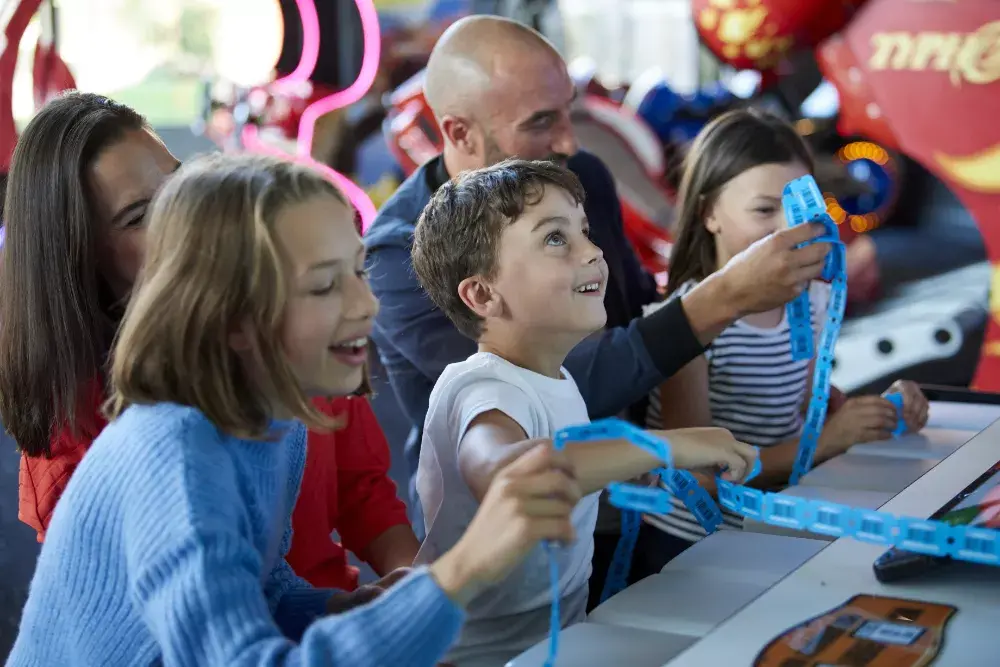 Family Days Out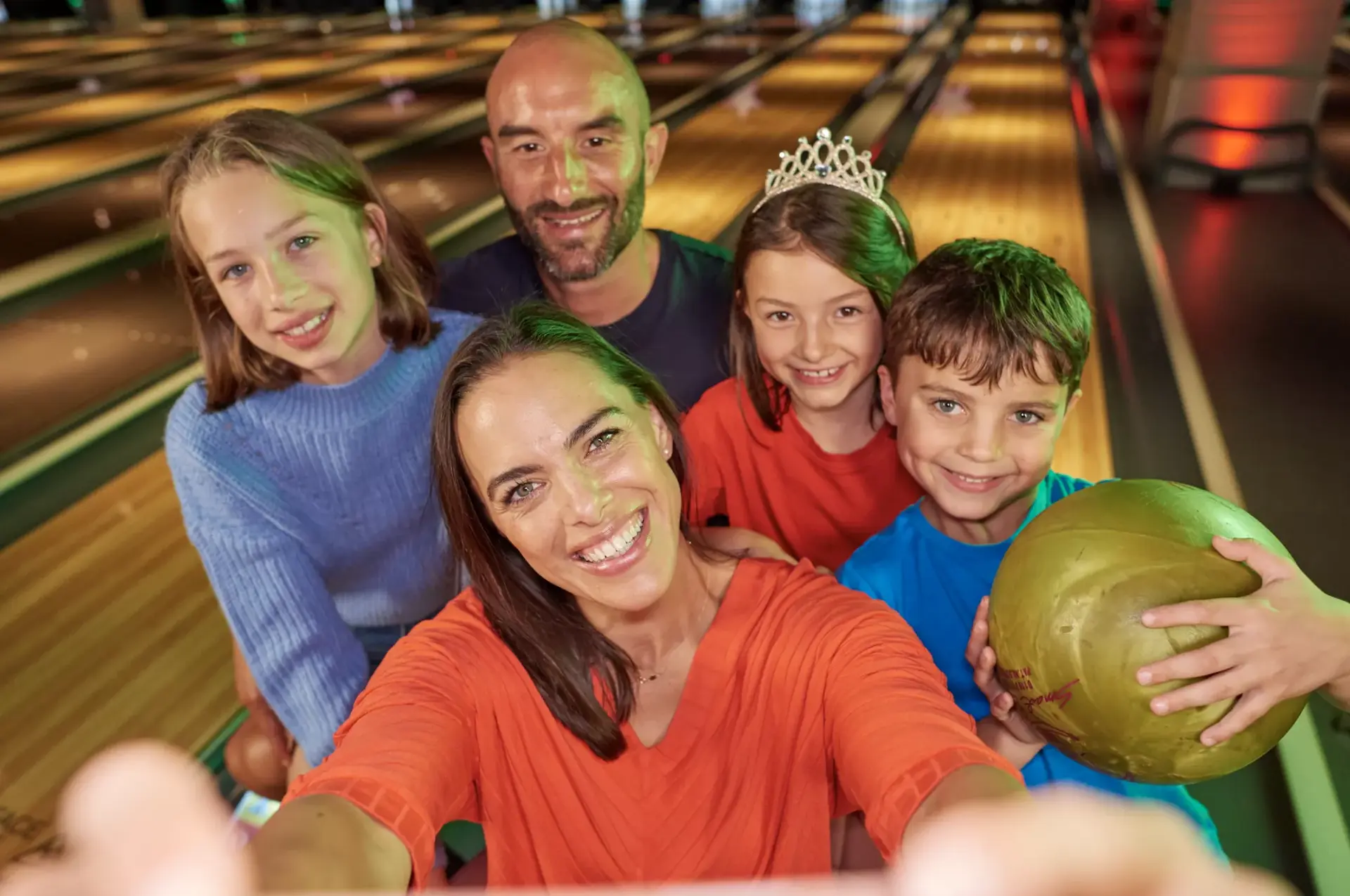 SCORE MAJOR POINTS WITH THE KIDS
With the school holidays nearly always just around the corner, you may already be worrying about how you are going to keep the kids entertained over the next few weeks. Most children get bored easily, and trying to amuse them without breaking the bank can be daunting for parents and carers.
So how do you entertain the kids with fun, energetic activities you can all enjoy together? Don't worry, we have the answer. Whether your children are quiet gamers or bursting balls of energy - bowling is the perfect family day out, filled with varied entertainment for every type of child, and adult to enjoy!
WHY CHOOSE BOWLING TO ENTERTAIN THE KIDS?
There are plenty of reasons why bowling is a great option to keep your children entertained during the holidays. Not only is it a fun day out for all the family, but it is also a fantastic way to keep them active during the holidays. The great thing about bowling is that every game is different, and like with every sport, the more you practice the more you improve. Children and teens will get excited watching their scores improve as they revisit the alley. Of course, this also benefits things like their hand-eye coordination and stamina without them even knowing it, so it is truly a win-win.
Still not convinced? Here are a couple more reasons why bowling should be your first choice for entertaining the kids during the holidays… 
YOU CAN GET THE WHOLE FAMILY INVOLVED
One of the great things about bowling is how accessible it is. With the alleys, the pool tables, and plenty of amusements for the kids to play to their heart's content; there is always something for the adults too, so there is plenty of fun for the entire family to get involved in. With up to six people to a lane in our centres (and a maximum of eight in some), this is the perfect fun day fix for bigger families as it guarantees to drum up some healthy competition which you will all enjoy together. So, whether your kids want to bring their friends or you have simply got a big family, there is plenty of room for you all to get competitive and have a laugh.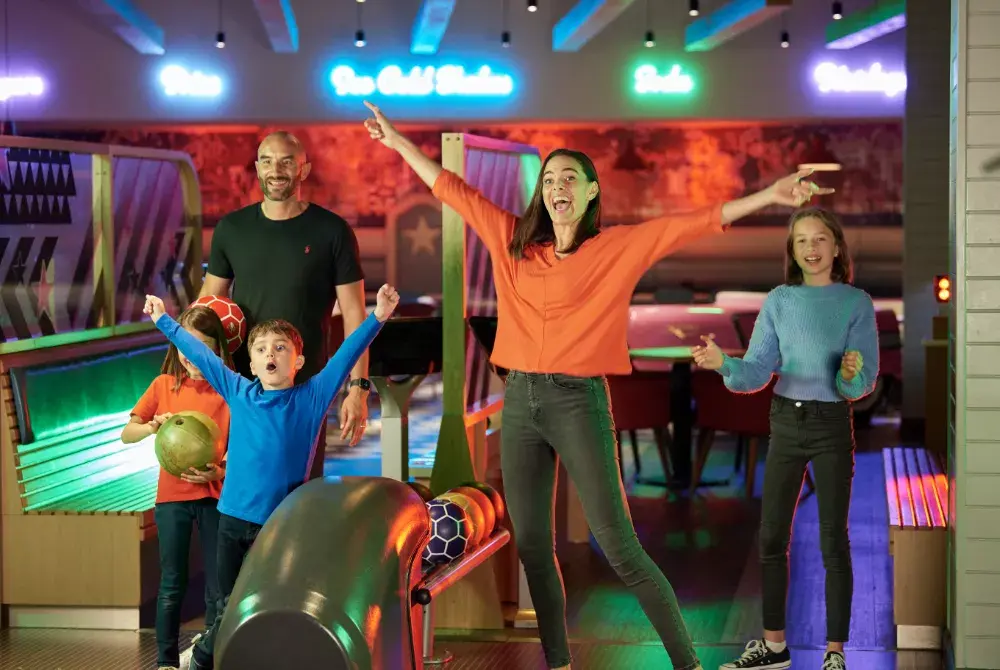 IT IS FUN FOR ALL AGES
One of the many benefits to bowling is that it is fun for all of the family, regardless of age. Although we recommend that children under four should not bowl due to the weight of the bowling balls, other than that, it is an enjoyable game that can be shared with everyone.
KEEP THE KIDS ACTIVE
While a healthy amount of time spent on technology is fine, it can be a little worrying when kids spend all of their time sitting in the house with the curtains drawn on their iPads, or computer games. But how likely are you going to get them out of the house swimming or running? Instead, why not get them excited about going bowling? It's a great activity to get your children out and about.
BOWLING TIPS FOR A FAMILY DAY OUT
Bowling is a brilliant option for a family day out to keep the kids entertained, and to make sure your family days out go off without a hitch - here are a few tips on how to have the best bowling family day out that create memories the kids will never forget.
COST EFFECTIVE FAMILY DEALS
With everything you could want in one place, you are already saving money on travel. Don't forget to check out the offers though too, including the family deal. There are two options available. The first option is the family deal for four people, which covers two adults and two juniors, or one adult and three juniors. The second option is the family deal for five people, which covers two adults and three juniors, or one adult and four juniors.
UTILISE THE ARCADE
While the bowling alleys may seem like the main event, do not forget about the arcade. They are jam-packed with various games and amusements. You can let your kids loose with your jar of leftover 10ps, or try to beat them on the leaderboards of the classic racing and Pacman games. Just make sure you keep collecting those tickets throughout the year because, by the end, your children might have earned themselves a major prize!
THE BEST FAMILY DAY OUT BOWLING PLAN
The school holidays can feel like they whizz by, so make sure you come up with a plan of action that allows for you to spend some quality time with the kids, and create some amazing family memories. Bowling is a great choice for planning that fun packed family day out as it has everything you need to keep the day going, and everyone walks away with a little something. Here is a simple outline of how to keep the kids entertained at the alley from beginning to end.
GET STARTED WITH A GAME
The holidays can get busy with plenty of parents and carers having the same ideas, which is why we recommend that you book in advance to ensure you get a guaranteed spot on the lanes and avoid waiting for availability. You will have the option of one or two games depending on how many you think your kids will enjoy - and don't forget, whilst you play your game why not get some tasty drinks and snacks ordered to your lane to keep energy levels flowing!
FUEL UP ON FOOD
Once you have finished battling it out with the bowling balls, your little ones will want to refuel. Luckily, we have the perfect place. Our on-site Hollywood Diners have a large selection of American-inspired food that will satisfy every set of taste buds. From classic burgers and hot dogs to delicious milkshakes, there is something for everyone.
HIT UP THE ARCADES
End your day with a visit to the arcades, where your kids can let their competitive side roam free as they test their skills on the prize grabbers and 10p machines. There are some fantastic prizes on offer for the more ambitious children in the group, while chilled-out guests can enjoy our more relaxing games like the classic air hockey tables.
Going bowling is a great day out for the family, and it truly benefits the kids in several ways. From keeping them entertained to making them active, Hollywood Bowl has everything you need. So if you're ready to have a fun-filled holiday then book a game with us today.